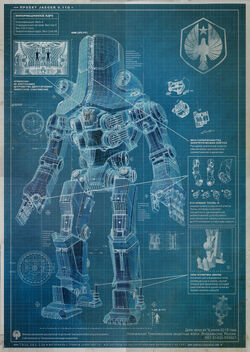 Cherno Alpha (Черный Альфа Cherniy Alfa) is a Mark-1 Russian Jaeger. Piloted by husband and wife duo Sasha and Aleksis Kaidonovsky, Cherno Alpha was the last of the Mark-1 Jaeger series and the oldest Jaeger still active in combat before its destruction in 2025.
Pacific Rim Novelization
Early Combat History
Of the at least six known deployments, the Mark-1 Jaeger is assigned to a two and a three Jaeger drop that include Crimson Typhoon in 2019 and then Striker Eureka in 2020. April 12, 2019 is the first mission with Crimson Typhoon.[1]
Cherno and Crimson are deployed against the Kaiju that makes landfall in Osaka, Japan. May 25, 2020 is their second mission together, accompanied by Striker Eureka. Cherno, Crimson and Striker are sent to Ho Chi Minh City, Vietnam to prevent the Kaiju from destroying the city.[1]
2025
Sasha and Aleksis listen to Ukrainian Hard House inside the Conn Pod of their Jaeger, Cherno Alpha. Upon their arrival to the Hong Kong Shatterdome, the Wei Tang Brothers are quick to criticize the music playing outside the Conn-Pod.[2]
Their taste in music questioned, Sasha is forward about telling the triplets that if they have a problem with the Ukrainian Hard House, they have a problem with life. She adds that this is something they're willing to "fix".[2]
Kaiju Killed
The following is roster of named Kaiju defeated by Cherno Alpha, assisted or on its own.
Notes
References