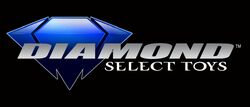 Diamond Select Toys is a specialty manufacture that creates collectibles for adult collectors, and the sister company of Diamond Comics Distributors. Diamond Select Toys is responsible for action figure merchandising for Pacific Rim: Uprising.[1]
History
Diamond Select Toys was founded in 1999 by Diamond Comics Distributors with the intention of creating collectible merchandise aimed at an adult audience. Since its establishment, Diamond Select Toys has since licensed a variety of pop culture properties, including Marvel Comics, Star Wars, Star Trek, Transformers, Halo, and Buffy the Vampire Slayer.
While they have made collectibles in numerous product categories, including action figures, plush, banks, busts, statues and prop replicas, many of their licensed properties are released in the form of Minimates mini-figures, which has helped make Minimates one of the most prolific and diverse toy brands in the world.
External Links
References