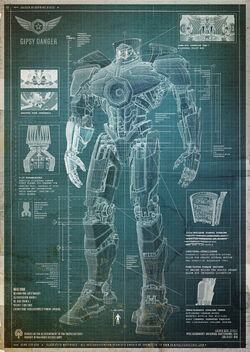 Gipsy Danger is a Mark-3 American Jaeger and was one of the oldest Jaegers still in active combat after Cherno Alpha until its destruction in 2025.
Pacific Rim Novelization
Early Combat History
December 16, 2019, Gipsy Danger is accompanied to Manila by Striker Eureka and Horizon Brave to stop a Category IV Kaiju. Horizon Brave is overpowered by the Kaiju, but Gipsy Danger and Striker are able save the Mark-1 Jaeger. Gipsy Danger kills the Kaiju.[1][2]
Features
Gipsy Danger possesses a gauntlet-fixed S-11 Pulse Launcher, which fires an orb of pure dark matter at its target. Successful strikes tend to disrupt the molecular structure of Kaiju biology.[3][2]
Kaiju Killed
The following is a roster of named Kaiju defeated by Gipsy Danger, assisted or on its own.
References