Tagline #1: "Today we are reblogging the apocalypse."
Tagline #2: "Jaegercon 2013: Tumblr the apocalypse"
—Jaegercon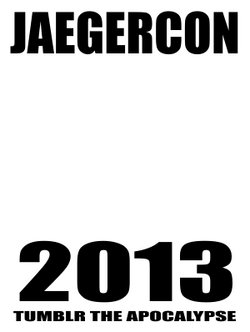 Jaegercon (stylized as JaegerCon) was an online fan convention held on tumblr.com, August 9, 10 and August 11, 2013 to coincide with K-DAY, the beginning of the Kaiju War in Pacific Rim.[1][2]
History
Jaegercon was founded by tumblr users, Flatbear[3], Exorin[4], with the help of Marchingjaybird[5] and Mary-stormborn[6][7]. Recognized by the likes of Guillermo del Toro, Travis Beacham and the cast of the film, Jaegercon was set up as a means for fans to show and support appreciation of Pacific Rim during the time the film was presumed to be a financial failure by the skeptical film media at large.[8][9]
Jaegercon produced a multiple of fanworks, ranging from fanfiction, fanart, visual and audio media such as fanmixes, music videos and original music and a fanfiction bingo challenge that encouraged fans of Pacific Rim to show their appreciation of the film in any way they were comfortable.
In conjunction with fanworks, viewings of the film were set up or proposed in various areas of the United States, such as Toronto, Charlotte, San Francisco Bay, Las Vegas, and outside the US, in London, during the film's run in theaters. San Francisco arguably had the largest amount of support, with over fifty people attending the viewing of Pacific Rim; Seattle, Toronto, Vancouver, Portland and elsewhere arguably gathered a number of twenty plus people or fewer for their own viewing of the film.
With the help of Robert Maillet and Richard Rowntree[10], Jaegercon's organizers were able to facilitate interviews with some of the cast and crew, specifically, Maillet, Heather Doerksen, Callum Green, the Mark, Charles and Lance Luu, Robert Kazinsky, screenwriter Travis Beacham and director Guillermo del Toro. They answered questioned provided by fans and the organizers. On the first day of Jaegercon, Guillermo del Toro personally thanked the organizers and those who participated in the Jaegercon convention for their support of the film (see below).
Introduction by Guillermo del Toro
"I welcome you to this, our first Jaegercon in Tumblr with a message of great love. Love for all things giant and ungainly and out of place in this world. Love for Kaiju and love for dented, rusty Jaegers that guard the coasts and cities like vanquished mecha knights. Love for human imperfection in the hearts of the pilots that need to trust the neural link and love for everyone that showed up in a theatre to see Pacific Rim on the big screen- specially in glorious 3-D. I urge you all to celebrate one more time by seeing it in those conditions before it moves on to the confines of your TV, no matter how big it is. To experience it with family and friends one more time in a theatre in 3-D or in Atmos or in Imax. Regardless of your choice- I thank you for loving this movie as much as I do and as much as we all did in making it. Thank You for your time and dedication."
—Guillermo del Toro, Jaegercon Day 1[11]
Cast and Crew Interviews
External Links
References
↑

User's account is deleted
Ad blocker interference detected!
Wikia is a free-to-use site that makes money from advertising. We have a modified experience for viewers using ad blockers

Wikia is not accessible if you've made further modifications. Remove the custom ad blocker rule(s) and the page will load as expected.