Pacific Rim
Talk

0
38pages on
this wiki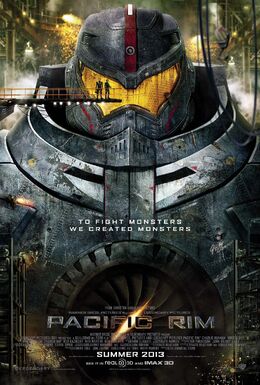 "To Fight Monsters, We Created Monsters"
Pacific Rim is an upcoming American science fiction film directed by Guillermo del Toro based on a screenplay by Travis Beacham. The Legendary Pictures film will be an homage to Japanese giant monster films, a genre known as Kaiju. Del Toro has said the film will be "a beautiful poem to giant monsters". [1]
The upcoming film will be distributed by Warner Bros. Pictures and released on July 12th, 2013 in theaters.
Plot
"When legions of monstrous creatures, known as Kaiju, started rising from the sea, a war began that would take millions of lives and consume humanity's resources for years on end. To combat the giant Kaiju, a special type of mobile weapon was devised: massive robots, called Jaegers, which are controlled simultaneously by two pilots whose minds are locked in a neural bridge. But even the most powerful and strongest Jaegers are proving nearly defenseless in the face of the relentless Kaiju. On the verge of defeat, the forces defending mankind have no choice but to turn to two unlikely heroes- a washed up former pilot (Charlie Hunnam) and an untested trainee (Rinko Kikuchi)- who are teamed up to drive a legendary but seemingly obsolete Jaeger from the past. Together, they stand as mankind's last hope against the mounting apocalypse."[2]
The film will feature approximately 9 types of kaiju (monsters) and 6 or 7 Jaegers (robots). "The robots – called the Jaegers – they have two or three pilots in a cockpit in their head. One pilot shares the ability to handle the right hemisphere, the other one handles the left hemisphere." - Guillermo del Toro at Comic-Con 2012
Cast
Burn Gorman as Dr. Hermann Gottlieb
Robert Kazinsky as Chuck Hansen
Max Martini as Herc Hansen
Ron Perlman as Hannibal Chau
Clifton Collins Jr. as Tendo Choi
Diego Klattenhoff as Yancy Becket
Robert Maille as Aleksis Kaldanovsky
Heather Doerksen as Sasha Kaidanovsky
Development
Originally, del Toro was set to direct an adaptation of At the Mountains of Madness, but Universal closed the project and the director switched his attention to Pacific Rim.
Tom Cruise was going to star in the film, but he was replaced by Idris Elba.
Ron Perlman, who has worked with del Toro on several occasions, was confirmed to have joined the cast on November 17, 2011.
Based on his work for Iron Man, Ramin Djawadi was chosen to compose the film's score.
Industrial Light and Magic was chosen to do the visual effects for Pacific Rim. Guillermo del Toro hired Oscar winners John Knoll and Hal T. Hickel, both known for their work on the Pirates of the Caribbean films. Legacy Effects was hired to do the special and practical effects on the film. Shane Mahan, known for creating the armoured suits for Iron Man was hired on as effects supervisor. John Rosengrant was also brought in for his work on Real Steel. Oscar winner Clay Pinney, known for his work on Independence Day and Star Trek, was also brought on board.
Filming began in Toronto on November 14, 2011 and continued into April 2012.
Footage
A bit of footage of Pacific Rim was specifically edited for Comic-Con 2012. The footage was shown to a packed house in Hall H, and only to them. It's not available anywhere else, so those who weren't in attendance must wait for the debut trailer.
"The footage began with an old man and a kid walking over an icy tundra with a metal detector. As they walk the machine begins to beep faster and faster and the old man picks a toy robot out of the snow. But that's not the only metal in the area. The old man slowly raises the detector into the air and a look of intense fear strikes across his face. In the distance a giant robot appears, with only one arm, and begins to stumble. It falls to its knees and then crashes with a huge boom into the snow face-first.
A title card saying "Summer 2013" appears on screen and we see a huge Kaiju rises out of the ocean and completely decimate a bridge as military jets fly in to try and attack (but they aren't super effective). We then see our first look at the cast, including Charlie Hunnam, Rinko Kikuchi, and Idris Elba, who line up and get in their suits, ready to pilot their Jaegars. Kikuchi and Hunnam are shown inside of their mech piloting in unison, throwing punches in sync with the robots moving. There are shots of Charlie Day walking into a very elaborate building, and Ron Perlman staring into the sky while wearing red sunglasses. A Jaeger and a Kaiju fight in the middle of the ocean. We hear Elba giving an inspirational speech to a group of Jaeger pilots, motivating them to get ready for a big fight. It ends with him declaring, "Today we are cancelling the apocalypse," as we see one of the Jaegers level a huge blow on a monster" with its massive mechanical fists [1]
Information
Release Date: July 12, 2013 (3D/2D theaters and IMAX 3D)
Studio: Warner Bros. Pictures
Director: Guillermo del Toro
Screenwriter: Travis Beacham, Guillermo del Toro
Starring: Charlie Hunnam, Idris Elba, Rinko Kikuchi, Charlie Day, Ron Perlman,
Genre: Action, Sci-Fi
MPAA Rating: Not Available
Videos
Film Stills
Posters
Concept Art
External Links
References