Pentecost

: I need more than a prediction, Ranger.
Pacific Rim: Uprising (action figures) contains material that's yet to be released or pending release. As such, some of the information might be inaccurate or likely to change. Please remember to add citations of information provided in the article before editing this page. Fan speculation will be deleted.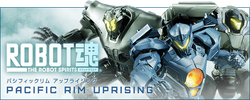 The Pacific Rim: Uprising action figures produced by Tamashii Nations are a series of highly detailed and articulated figures based on the Jaegers from the film Pacific Rim: Uprising. Beginning early 2018, Tamashii Nations plans to release a "series" figure sets, and other assorted specialty figures to promote the release of Pacific Rim: Uprising.
"Series" Figures
Robot Spirits
Sofvi Spirits
Soul of Chogokin
External Links
References
Pacific Rim: Uprising Action Figures
Robot Spirits Series
Sofvi Spirits Series
Soul of Chogokin Series
Plastic Model Series
Diamond Select Toys