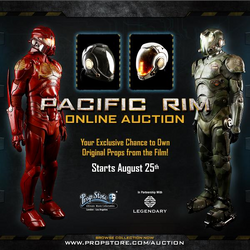 The Pacific Rim Auction was an auction event promoted by Legendary Pictures and hosted by propstore.com.[1] The auction began August 25, 2014 at 9:00am Pacific Standard Time and ended September 12, 2014 at the same time.
Official Description
"In partnership with Legendary Pictures, Prop Store is pleased to present an exclusive auction of over 300 original props, costumes and set decoration pieces used in the marketing of Pacific Rim."
—propstore.com[1]
History
Propstore.com announced that they would add thirty plus new auction lots to their store every day following the 25th of August, with bidding lasting as long as seven days. Pops offered by propstore.com were on display at Comic-Con 2014.[1]
Videos
Gallery
Promotional
Details
Comic-Con 2014 Display
References