This article is a history page
This article contains early or scrapped production information about Legendary Pictures's Pacific Rim, and is intended to work as a history book on the film's development progress.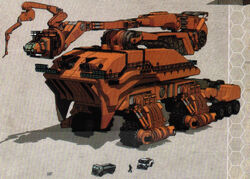 The Shatterdome Welding Machine is a welding machine mentioned in the artbook, Pacific Rim: Man, Machines & Monsters.[1]
Mechanics
The Shatterdome's welding machine is a massive construction vehicle that is piloted by one or more persons. Armed with a extensive lifting arm that allows the pilot(s) to move to and from the walls of the Shatterdome with some ease of mobility. At the tip of the lifting arm is the presumed welder. The wheels of the maintenance machine separate from the top half and fasten itself to the grooves of a beam or wall.
According to conceptual artist Ty Ruben Elingson, the welding machine was designed to climb vertically and horizontally across the Shatterdome's walls.[1] The welding machine was originally intended to be included in the film before it was scrapped for budgetary reasons.[1]
References