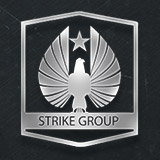 Strike Groups are Jaeger teams stationed at the Shatterdomes around the Pacific Rim during the Kaiju War.[1]
History
Jaegers that are assigned to defend a particular area of the Pacific Rim, starting from their Shatterdome's location, are usually paired with one or more Jaegers to fight alongside.[1][2] The number of Jaeger teams in a strike group appears to depend largely on how many the country or city has at their disposal. Initially, the number never appeared to go over two or three. However, instances with Lima, Tokyo and later, Hong Kong's Shatterdome in 2025, reveal that strike groups can have up to four Jaeger teams.[1]
Strike Group Occupations
Strike Group personnel include:
Strike Groups
| | |
| --- | --- |
| Hong Kong | Hong Kong, 2025 |
Lima
Anchorage
Vladivostok
Tokyo
Los Angeles
Panama City
References
Ad blocker interference detected!
Wikia is a free-to-use site that makes money from advertising. We have a modified experience for viewers using ad blockers

Wikia is not accessible if you've made further modifications. Remove the custom ad blocker rule(s) and the page will load as expected.