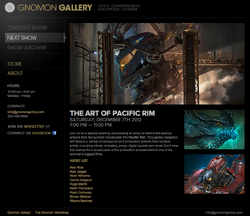 The Art of Pacific Rim was an exhibit held on December 7, 2013 at the Gnomon Gallery in Hollywood, California.[1] The exhibit featured works by concept artists Alex Jeager, Allen Williams, Hugo Martin and Francisco Ruiz, as well as physical props used in the feature film. The exhibit began at 7:00 PM and ended 11:00 PM.[1]
Description
"Join us for a special evening showcasing an array of behind-the-scenes artwork from the summer blockbuster film Pacific Rim. This gallery reception will feature a variety of concept art and production artwork from multiple artists, including robots, monsters, props, digital sculpts and more! Don't miss this chance for a sneak peak at the production process behind one of the summer's biggest films."
—Gnomon Gallery[1]
Featured Artists
Allen Williams
Brett Northcutt
Carlos Salgado
Francisco Ruiz
Guy Davis
Hugo Martin
John Giang
Keith Thompson
Kris Costa
Ryan Calloway
Ryan Drue
Simon Webber
Wayne Barlowe
Gallery
References
Ad blocker interference detected!
Wikia is a free-to-use site that makes money from advertising. We have a modified experience for viewers using ad blockers

Wikia is not accessible if you've made further modifications. Remove the custom ad blocker rule(s) and the page will load as expected.